Improving Your Performance When Not On The Course by Molly McDonald
It's the winter and that means a little less golf…at least for those of us living in northern states BUT that doesn't mean you cant be thinking and preparing for the spring!  Now is the time to work on your movement patterns and strength training to prepare you and help you become a better golfer on the course.
Here at IET all of our trainers are TPI (Titleist Performance Institute) level 1 certified.  As a golfer you know how important it is that your body can move properly during your golf swing.  That is why we start by using the TPI screen that is specific to golfers.   This allows us to see how you move in different planes of motion and if there is a restriction, weakness or dysfunctional pattern that could be effecting the kinematics of your swing.  Which could be negatively effecting your performance. This in turn may be why your swaying or slicing the ball at times in your swing.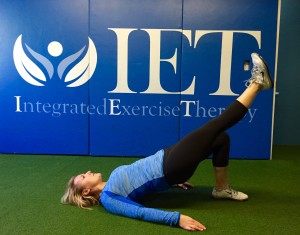 The movement screen allows us to put a specific exercise program together that will work on what you need specifically as a golfer and in turn make you better off the tees and on the greens!
We know going to the gym to improve your golf game challenges the old school thought that a golfer just needs to work on his golf BUT look at all the big names out there that are proving that lifting and corrective exercises DO improve your performance…Rory McIlory, Tiger Woods, Ricky Fowler, Bubba Watson to name just a few!!!  Just think longer drives off the tee, better control of your body when chipping up onto the green and having better accuracy on hitting the ball!!!  This can all come from taking the time now in the offseason to get screened and build a program specific to you that can improve your golf game.
Golfers are athletes and just like in any other sport, strength and conditioning is part of an athletes program to better them in their sport.  This is the same with golf.  Now is the time to hit the gym and become a stronger and better golfer SO that when the greens finally thaw out your ready to break out those clubs and hit the course!
Move Better ~ Feel Better ~ Perform Better